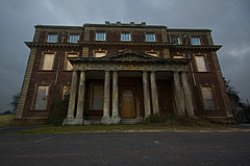 *** NEW ***
Full investigation video now available
Sandhill Park in Bishops Lydeard, Somerset was built as a country house around 1720. It was later used as a prisoner of war camp, home for handicapped children and later as a military and civilian hospital.
During world war I it was used as a prisioner of war camp for German and Austrian Officers. In 1919 it was converted by Somerset County Council into a home for handicapped children.
In August 1940 it became the 41st General Military Hospital, providing accommodation in tents and huts. From 1941 the hospital was leased to the Americans as a neurological hospital for over 1,000 patients in 32 new wards which were completed in 1942. The hospital remained in military use until 1944. The psychiatric hospital reopened under the National Health Service in 1948 and further buildings were constructed.
Sandhill park is currently up for sale. Since our investigation the Manor House has fallen victim to an arson attack.
We first visited Sandhill on a cloudy Saturday night in July 2009
On the spur of the moment Lorraine and myself Wayne decided to go and investigate an old Hospital which Lorraine had seen on a forum. With it being supposedly haunted we thought it was definitely worth a visit.
As we arrived at the entrance to Sandhill it was approx 11.30pm. We came to a steel farmer's type fence so we decided to leave the car here and continue on foot. We continued straight up the tarmac drive and after about 200 meters we saw some street lights lining the edges of the tarmac. None of these were working of course So we knew we were on the right track.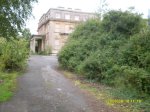 After about a 5 minute walk up a slight incline, we had arrived at a stunning three storey mansion with four pairs of large columns at the entrance.
There were more buildings to the left of the main entrance. We decided to go and have a look at these.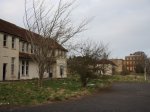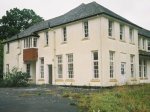 As we walked up to the first of four buildings, it was just an old single storey building with not much going on so we went on to the next one which was a two storey block.
We continued through the building finding large rooms on the ground floor. All windows and doors had been vandalised and graffiti had been sprayed on the walls saying "Your next".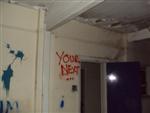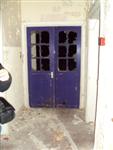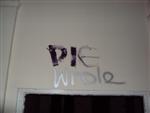 It now stands in a really bad state.
We continued and after about 5 minuets we found a set of stairs leading up to the first floor so up we went. Again vandals had ruined everything but we found a room and started calling out. After about 10-15 minutes we hadn't had any luck so we decided to move on to the next building.
We were looking at each room in turn and when we had reached the last room we found loads of old paperwork. Someone had tried to set fire to this as we could still smell the smoke damaged walls.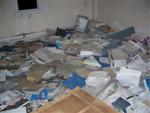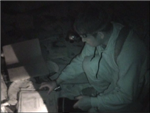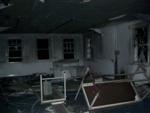 Then Lorraine said that she had seen a light in a building about 250 meters away. I went to the window and had a look but could see nothing.
I continued to look around and then Lorraine repeated herself by saying that she had seen the light again. I took another look but again could see nothing.
So as we were nearing the end of this building we decided to call out again but after 10 or so minutes we had had no luck.
We then decided to go and investigate the light that Lorraine had seen in the other building so off we went.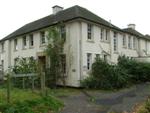 We arrived at the fourth building.
We went in and as we did I turned to Lorraine and said that something didn't feel right but I could not explain what. We found the stairs and went up to the first floor and found old telecommunications paperwork in every room. We then went to try and find the light Lorraine had seen.
We found ourselves in the end room where Lorraine had seen the light, so we decided to call out.
We turned our camera onto night vision and turned our digital voice recorder on as usual, and started calling out. As we did Lorraine said that she had felt something touch the top of her head. We continued calling out and after a short time it happened again; something was touching Lorraine's head. This made her slightly nervous but we continued. After about five minutes we asked if there was any spirits with us and if so could they please show themselves or make a noise. We went silent, then without warning we heard a scraping type noise which we put down to the wind pushing trees against the guttering, or down pipes due to the bushes and trees being overgrown.
As I had just finished saying this there was a noise like something had dropped to the floor by Lorraine's foot. I was shocked as the ceiling was completely intact - not even any flaking paint. So whatever it was could not have fallen from above us.
Whatever had been thrown had landed near to Lorraine and with her also being touched on the head, we thought that maybe something was reacting to her energy. So we decided that she should call out.
She started calling out and after about a minute had passed something else was thrown. we heard something hit the floor and bounce twice.
Lorraine grabbed me and I can assure you she has never done this in fifteen years!!
We continued for approx 5 - 10 minutes with no more success so we gathered our equipment together and decided to leave.
It was now 3am and we discussed what had happened on the way back to the car.
It wasn't until we returned to the car we found that we had captured the moments on video camera and digital voice recorder.
This is the video of the first object hitting the floor, just after Wayne finishes talking.
This is a recording of an unexplained noise which we captured on voice recorder while we were speaking.
See our return investigation of Sandhill Park
More photos of Sandhill Park