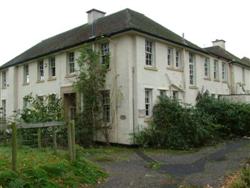 *** NEW ***
Full investigation video now available
We returned to Sandhill Park a week after our first visit. This time it was Lorraine, Mike and myself Wayne. We arrived at 10.15pm and it was a cold night for the time of year.
We arrived at the mansion and made our way to the concrete steps which we had seen previously. Once inside I found four rooms which we could investigate.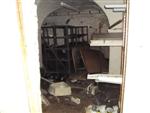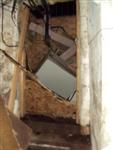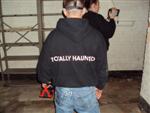 We were hoping that this was the morgue as research on the internet had led us to believe that it was in the basement area. The first room we came to was full of junk so we continued to the second room. It was in here we realised just how old this place was.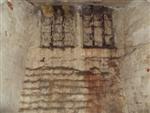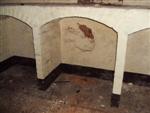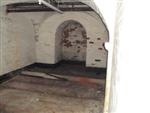 We started to call out but with no success. So then decided to investigate more of the building, and it was then we discovered that we could go no further than these four rooms. We decided to call out once again hearing one faint knock in twenty minutes. But one thing that was bothering Lorraine was that through her night vision on the camera she could see a bat flying around our heads. She said that she was not scared of the paranormal but she drew the line at bats. On the way out Lorraine cut herself on the finger which streamed with blood. This incident amongst others, has made us realise that we need to add a first aid kit to our equipment.
Mike wanted us to show him where we had heard the noises the visit before. We walked over to the building that we had experienced what we believed could be paranormal activity. We set up our equipment in the room and began calling out. In the time that we were calling out we experienced several things. We heard stones being thrown and a strange rumbling sound which was repeated. We also captured on camera several light phenomena.
After spending over an hour in the room we decided we would try the mansion again. On the way to the mansion we bumped into three locals.We found another door, this lead to the canteen area which consisted of only a couple of rooms. We found an old pushchair with a clear plastic bag containing a pair of child's blue wellies. We also found a board with a price list.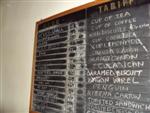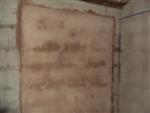 We said goodbye to the locals and headed back to the car and the investigation was over.
This sound was picked up on camera while calling out. Although we did not hear this sound we had heard a moan just before this that was not picked up on camera. The light and beeping sound was from our thermometer.
These sounds were recorded in the building which we believe to be the most active. Both times it seems as if a stone or something was thrown. And both times it seemed to happen when we were not paying attention or calling out. Please excuse the bad language!!
For first investigation of Sandhill Park click
More photos of Sandhill Hospital