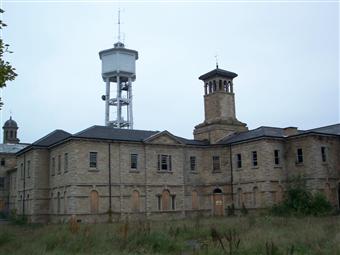 St John's Asylum in Lincolnshire, in the East of England was built 1852. The building was then known as Lindsey & Holland Counties & Lincoln & District Lunatic Asylum. The Asylum has also been known over the years as Lincolnshire County Pauper Lunatic Asylum and Bracebridge Heath Asylum. Finally it was given the name St John's during the early 1960's.
It was originally built to house just 250 patients, but by 1902 the asylum grounds covered 120 acres. The grounds of the asylum were cultivated by the inmates as they grew their own vegetables. Within the grounds was a cemetery for the hospital which covered 1.5 acres. St John's also had its own mortuary chapel.
After the outbreak of World War II during 1940, the patients were transferred to other nearby establishments as the hospital was turned into an emergency hospital.
In 1948 the administration of the hospital was passed to the National Health Service.
The asylum finally closed it's doors during December 1989 with all the patients being transferred to other nearby hospitals.
The site was then sold to developers who have converted a lot of the site into new housing.
All that now remains is the main asylum buildings which are Grade II listed and cannot be demolished. However work is now under way to convert the main buildings into flats.



Our visit to St John's was in October 2010. There was Helen, Rachael and myself Lorraine.
We arrived at the hospital around 6pm and made our way to the main building. The place is now completely stripped and all that remains is the shell of the building. Even the floorboards have been removed.
The place was vast with endless corridors and lots of different rooms. We explored for a bit and tried to decide the best place for us to concentrate our investigations.
While walking round we were calling out but didn't seem to get that much really. It was not until we entered what seemed to be the children's ward that we had any sort of activity.




As we walked through the corridor of the children's area we heard what we thought sounded like whistling. We decided then that we would start our investigation here. We waited for it to get dark which was no time at all then we started.
Along the corridor there were small individual rooms so we decided to take one room each. We stood in our rooms while we called out. Then I heard what I thought sounded like a laugh coming from the corridor outside so we all decided to sit down at the entrances to our rooms looking out to the corridor.
As we sat there we could hear what seemed to be faint whistling again. So Rachael decided to call out to ask them to whistle again for us, but just before she did we heard what sounded like crying. When Rachael had finished asking we heard the whistling again and this time we caught it on camera.

Still sat in the doorway of our individual rooms we continued to call out. I was sat quietly listening when suddenly something behind me inside of the room hit the floor. It gave me a shock but slowly I got up and turned into the room but could not see or hear anything.
We then decided to all come into the room where I had been sitting and start calling out again. Straight away we heard what sounded like heavy footsteps coming from the floor above. This went on for some time getting louder, then quieter, then louder again. While we were listening in the same room something seemed to drop again. This time it seemed to land right next to me and Helen.
We continued our investigation for a while longer but did not seem to get anything else.
I would say that St John's is a very strange place. The atmosphere there is very dark and depressive. It was not that I felt uncomfortable, it just seemed like we were being watched and followed through the place the whole time we were there.
This video clip is when we were sat in the children's ward. After Rachael calls out she whistles and a sort of whistle sound can be heard.
The video is too dark really to see anything as we had left the IR light behind in the car. But the sound can be heard.
What we picked up sounds to us like somebody trying to whistle who is unable to whistle properly.