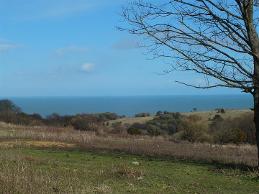 South Forelands battery in Dover is positioned between Dover's white cliffs and the village of St Margaret's. The Battery was built in 1942 and was used in the Second World War to fire upon Calaise, and to protect the Dover straits from invasion.
This wasn't a Totally Haunted investigation but Becky and myself, Lorraine were out for the day in Dover exploring in March 2014. One of our other passions is taking photos of derelict and disused places, so that day we were exploring Dover's ex military sites. We had driven down to South Forelands, a place where I have been before.
See this website for photos of both visits.
We made our way to the ammo storage, which is an underground building, and started to take photos.


As you go into the entrance it splits into 2 separate passageways. Whilst standing in front of the 2 passageways I decided to take a photo of the one on my right. As I focused my camera into the darkness of the passageway, my camera detected 2 faces. My camera does have face detection on it, and does generally detect faces when I am taking photos, however it has never happened when there were no faces to detect. I don't know if it was paranormal, but it was certainly unexplainable. I took the photo and immediately reviewed it to see if it had picked up anything that could've resembled a face, but there just complete darkness as the photo below shows.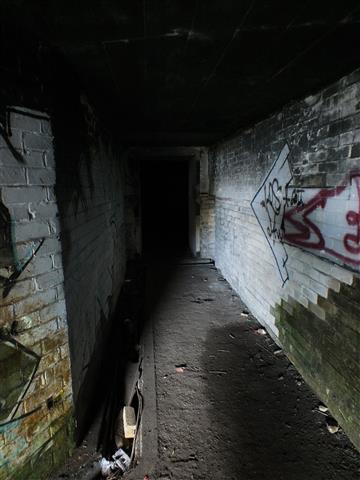 As soon as I saw the red squares detecting the faces, Becky, who was stood right behind me, saw them also. Feeling a bit unnerved we proceeded down the passageway where the camera had detected the faces. Becky's torch began to fail, and mine was in the car. Unable to proceed because it was far too dark due to being underground, we went back to the car to get my torch.

We made our way back underground and towards the 2 passageways. We decided to go down the one where the camera had detected the faces, and as soon as we entered it something landed in front of us on the floor. We stopped dead in our tracks and shone the torch to the floor, where there was so much debris that it was impossible to tell what had landed in front of us. We shone our torch to the ceiling, which was made of concrete, and it wasn't damaged so we couldn't see how anything could've fallen from it.



We continued on down the passageway at a slow pace and felt very uneasy. The atmosphere in there didn't seem nice. Whether this was because of what had happened, or just that it was a horrible place to be is uncertain. We continued exploring this small underground storage space with no further un-explained phenomena.