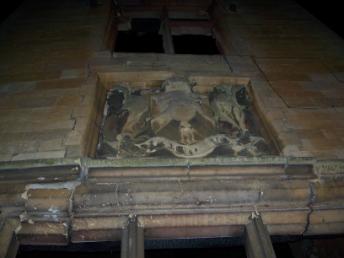 This Grade II listed building that now stands as Nocton Hall was built in 1841. The house was rebuilt after a fire destroyed the previous house in 1834. However the site has been occupied since much further back than this, and there is mention of a settlement on the site in the Doomsday book.
It is believed that an oak tree which stands outside of the property was planted by Katherine Howard, the wife of Henry VIII on 13th October 1541. The Oak tree which is still standing now has wooden supports to help hold it up.
The Hall was occupied by the army in WWI and used as a convalescent home for American soldiers. Then in WWII they built RAF Nocton hospital on the 200 acres surrounding the hall. This and the hall were to be used again to house the wounded American soldiers. However the hospital was thought too small and relocated at Rauceby. This did not mean the site was left unoccupied as the American army still used it during the war.
After the war the hospital was used as a general hospital for the county of Lincolnshire. Over the years the site was extended but finally closed its doors in 1983. It was then used for military purposes until 1995 when it finally closed for good.
The hall then stood empty and had its first fire in 2004 which completely gutted the building. The second fire in 2005 caused even more damage and left the shell you see today.
Before the hall burnt down there had been reports of the ghost of a little girl haunting the building. It is also said to be haunted by a Grey Lady.
We investigated Nocton Hall in October 2010



We spent about two hours investigating the now derelict hall. The atmosphere was calm and peaceful and despite the reports of it being very haunted we experienced no activity at all.