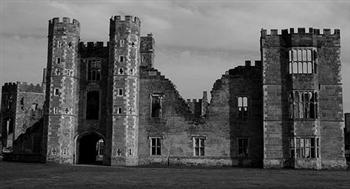 COWDRAY CASTLE
Cowdray Ruins is one of the South of England's most precidious early Tudor palaces set in the stunning grounds of Cowdray Park, Midhurst, West Sussex. It was built in 1520 and then was partly destroyed by fire in 1793. Regular Royal visitors included Henry VIII and Elizabeth I. Other famous visitors to Cowdray included Edward VI and the King of Spain.
We had read several reports that Cowdray was haunted so we decided to pay a visit and carry out an investigation.
We decided to visit one night in October 2009
After experiencing bad stormy weather during the day, we had to cancel our plans to visit somewhere else due to the fifty mile an hour winds. As the evening went on the storm slowed down and eventually ceased, but it was far too late to go to our original location. A quick search on Google brought up Cowdray Ruins and as it was only a hour away we decided to investigate there.
Wayne, Rachael and myself, Lorraine left around 9pm.
On arrival we drove down a dark lane to the entrance of the ruins. There we parked just outside the main gates.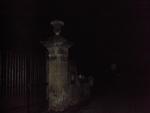 We were shocked at how large the ruins are. We were really excited about our forthcoming investigation.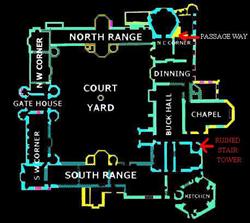 We walked through the gatehouse and explored a small circular room. We all felt that the building had a spooky atmosphere. We entered the courtyard and made our way to the porch which led to Buck Hall. We looked up to the ceiling in the porch and saw magnificent patterns carved into the stone. This showed us how grand the building once was.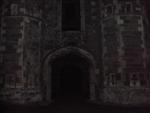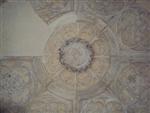 We found some ruined stairs leading up to the first floor. We managed to climb up. Once we got to the top we called out for 10-15 minutes. The EMF meter went off a couple of times but other than that no possible paranormal activity so we decided to move on to an adjacent room.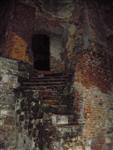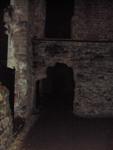 We put one camera on a mini tripod in an alcove in the room. We left this camera recording while we stood in a circle calling out. We could hear nothing at the time, however on viewing our footage once home, two faint taps can be heard.

We decided to climb back down and then Wayne went to explore the old Dining Hall and the North East corner. We went off exploring in the opposite direction to a ruined stair tower next to the old Buttery.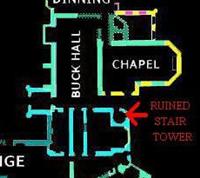 We decided to call out here inside the tower, after leaving the EMF meter outside the doorway. We called out for around 10 minutes and heard nothing.
We decided it was a good idea to walk around the castle and call out instead of staying put in one room. As we left the room we asked if any spirit person was there could they follow us and let us know. As we said this Rachael picked up the EMF meter from the floor outside the tower room and it went off in her hand.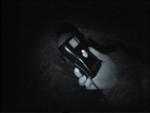 As we walked back towards the porch, I heard a man's voice which sounded very close to me yet very faint. Unfortunately it was so faint we didn't pick it up on camera.
We shouted for Wayne to see if it was him as he was the only male with us. He came running from the other side of the building as he heard our shouts. There is no way that it could have been him as he was just too far away.
As I was explaining to Wayne what I had heard, the camera was still running and pointing on Wayne. Suddenly the camera just switched itself off, as if all power was gone. It has not done this before nor since. After fumbling around I managed to get the power back on and I realised the battery was still fully charged.
Rachael and I decided to go and explore where Wayne had been and he went in the direction we had been. Before we split up again we left our voice recorder on a wall in between Buck Hall and the old chapel.
We went to call out in a small passageway off the North Gallery. The floor was made up of small stones which crunched underfoot.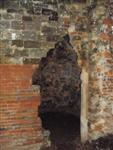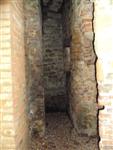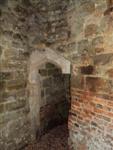 While we were calling out I heard footsteps in the passageway but neither me or Rachael had moved. This sound was caught on camera. We asked if any spirit could throw something. We didn't hear anything at the time but the voice recorder from where we had left it, picked up several sounds of what can only be described as stones being thrown. We continued calling out and Rachael then felt someone breathe on the back of her neck.
After being in there for about 15 minutes we made our way back to the Dining Hall. We sat down between the Dining Room and Buck Hall. Again we were calling out. I heard a stone fall about 12-15 foot away from me, which hit the ground.
We again shouted for Wayne who was once again was nowhere to be seen! So it wasn't him.
We sat on the wall for a few more minutes and then we saw him walking towards us in the distance.
When Wayne reached us we all sat still for a bit, and then we saw a light which appeared as if it was being shone from outside the locked entrance to the vault. It was like a quick flash but we all saw it 3 times. We have no idea what caused it but as all 3 of us saw it we know it wasn't our imaginations!
We decided to call it a night and head off back home just as the heavens opened and it poured with rain.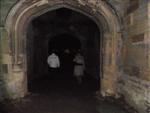 This clip is when myself and Rachael were in the small passageway. We heard what we thought to be footsteps in the passage with us.
Here Rachael and myself are sat between the Dining Room and Bucks Hall. We were asking for activity and a stone landed about 15ft from us. The stone can only just be heard as it hits the floor.
This is a clip taken off the voice recorder which was left on a wall between Buck Hall and the Chapel. It is at the same time as the clip above but the stone can be heard louder.
This clip is from the voice recorder which was left on the wall in Buck Hall. The clip is a minute long and you can hear three diffrent objects being thrown. You will hear Wayne in the background who was conducting an investigation over the other side of the ruins.
More photos of Cowdray castle